Dig out every possible relevant prior reference for DNA, RNA and Amino Acid sequences. 
Biological Sequence Search
The quest for progress motivates us to deliver an inimitable solution to our clients with seamless experience of service.  Our Search Solution aims to help clients take the best IP decisions and empower them to effectuate their best. For more than a decade our clients have obtained significant achievement in making better IP decisions with our strategic approach.
How Do We Help Clients Take Better Strategic IP Decision?
Before licensing/collaborating for an invention, a product launch, to check patent enforceability, production of artificially engineered/recombinant nucleic acids our bona fide biological sequence search will help clients leverage IP assets with:
Competent Professionals
Despite being highly skilled in Sequence Searches and IP, our experienced search experts update themselves regularly to produce reliable search solution. Sound technical expertise in understanding both nucleic acids and amino acids sequences, proficiency in using sequence search databases in implementing search requirements, refining search by enabling parameters based on identified results, applying knowledge of appropriate algorithm according to search requirements and a thorough understanding of the difference between "disclosed" and "claimed" sequences in patent literature have imbibed proficiency in our team. Complete access to various paid databases that aid in specialized and supplemental searches (STN, Questel Orbit, Derwent Innovation, STN) makes us deliver the best solution every time.
Robust Techniques
Post rigorous assessment of client requirement, our technical experts provide market and jurisdiction-based recommendations which will help a client maximize their profit in product development and launch, securing IP rights, exploring markets, litigation, competition analysis and many more. Strict adherence to timelines, expiry information of close patents, quick delivery of expedited searches, timely assessment of potential risks have helped many of our clients who are individual inventors, academicians, research institutes, companies functional in R&D and so on. A continuous communication channel is initiated to serve as a constant medium of contact where client feedback is incorporated apart from post deliverable updates.
A start-up functional in CleanTech initiated a vertical in Biological Waste Management using microorganisms. Their initial R&D required access to diverse nucleic acids and amino-acids sequences from both bacterial and fungal sources. They approached Sagacious IP with a unique requirement that involved searching freely available amino acid sequences specific to an enzymatic pathway that converts industrial waste to reusable products. Sagacious IP performed an in-depth search to identify such sequences, using various search models (queries modeled around mega protein BLAST) on several databases. The search results helped the client in zeroing on the most favorable and easily available sequences to design their process on. They subsequently commercialized their technology to one of the front-runners in the market.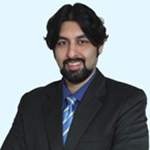 Vaibhav Henry
EVP – ICT Licensing & Searching
Patent Commercialization Expert (Information and Communication Technology
Master's in Information Systems (NSIT, Delhi), Licensing Expert with keen interest & experience in Computer Science & Electronics and multiple deals to his credit
Rajat Gulati
SBU Head – Engineering
B. Tech (U.P. Technical University) and MBA from SMU
Ankur Gupta
SBU Head- Life Science
Masters in Biological Sciences(BITS Pilani)
Sumit Prasad
Manager – ICT Searching
Patent Licensing Expert (Telecommunication)ECE Engineer, 5+ Years in IP Industry, Licensing Professional with expertise in Telecommunication and Wireless Applications/Standards
Anubhav Bhatti
Project Manager – ICT Searching
Patent Search Expert (Electrical)Electrical Engineer, 3+ Years' Experience in IP Industry, Searching Expert with focus in Motors, Actuators, HVACs and other Electrical Systems
Tanmay Mittal
IP Solutions Architect
B.Tech (Mechanical Engineering) from NIT Hamirpur7+ Years of Experience