Discover exact or similar chemical entities for your chemical compound using through databases indexing scan. 
Chemical Structure Search
When it comes to a new product launch in the market or identify new emerging compounds which are not available by their common names on databases, a thorough chemical structure search helps our clients acquire a perpetuate advancement whilst operation.
Companies functional in R&D, Research Institutes, Universities (Technology Transfer Offices), Academicians, Individual Inventors, Plaintiffs/Defendants in Infringement cases have been benefitted by this service. Drug designing, determination of new derivatives of existing compounds, product launch/scaling up, patent enforceability checks/cases (litigation during Infringement/Invalidity), licensing/collaborating for an invention, intermediate or prototype stage of the product, and market-launch competition analysis are some of the major work fields where our chemical structure search plays a significant role.
Each of our chemical structure searches is backed by thorough keyword search using multiple paid and non-paid databases. It is further followed by extensive class based and inventor based search to help our clients avail their IP rights to a large extent.
Proficient Professionals: Our professionals' unparalleled technical expertise in understanding the compound structure and strong analytical skill makes interpretation of identified search results easy and seamless. They emphasize on maximizing client's profit by helping them in product development and launch. We make it a point to deliver customized searches with strict timelines and no compromise on quality. Moreover, access to various paid databases (Questel Orbit, Derwent Innovation, STN) with wide coverage and full text from various jurisdictions allows searchers to conduct comprehensive chemical structure search.
Exemplary Search Solution: Our searchers strive to provide market and jurisdiction based recommendations to our clients to help them leverage their IP assets. We make it a point to update clients with expiry information of close patents to save client's money. With the use of database (STN) experts aim to optimize search to minimize the costs. Our timely updates and communication with clients allow us to deliver expedited chemical structure searches. Also, we serve clear defined efforts with their respective costs which includes database and analysis cost approximately.
Reliable Engagement Model: We endeavor to understand our client's need by doing a thorough study at multiple stages of invention. Further, an appropriate solution is proposed as per the requirements such as new product development, securing IP rights, exploring markets, litigation, competition analysis, etc.  Based on the client's additional inputs or approval, services are customized to serve optimum search results to them. Additionally, our search team develops a strong continuous communication channel to carry out post deliverable updates followed by incorporation of client's feedback.
A client from a chemical company functional in R&D of agricultural pesticides, insecticides, herbicides, etc. had a keen interest in buying technology licenses from some competitors with agro-chemical products in the market. After understanding the client's requirements, Sagacious recommended a Clearance structure-based search on the products. The client was provided with a full analysis of patents on every possible search query from various specializes databases, right from keywords to technical classification, assignees, citations and chemical structures (specific databases). In addition, a detailed analysis of the results with their legal status was provided to determine active patents and their expected expiry dates. Based on the analysis, Sagacious uncovered some leading companies with their IP protected in the technology. Not only did our analysis assist the Client in licensing, we further contributed to advancements in their existing products.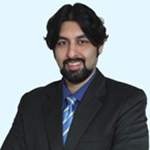 Vaibhav Henry
EVP – ICT Licensing & Searching
Patent Commercialization Expert (Information and Communication Technology
Master's in Information Systems (NSIT, Delhi), Licensing Expert with keen interest & experience in Computer Science & Electronics and multiple deals to his credit
Rajat Gulati
SBU Head – Engineering
B. Tech (U.P. Technical University) and MBA from SMU
Ankur Gupta
SBU Head- Life Science
Masters in Biological Sciences(BITS Pilani)
Sumit Prasad
Manager – ICT Searching
Patent Licensing Expert (Telecommunication)ECE Engineer, 5+ Years in IP Industry, Licensing Professional with expertise in Telecommunication and Wireless Applications/Standards
Anubhav Bhatti
Project Manager – ICT Searching
Patent Search Expert (Electrical)Electrical Engineer, 3+ Years' Experience in IP Industry, Searching Expert with focus in Motors, Actuators, HVACs and other Electrical Systems
Tanmay Mittal
IP Solutions Architect
B.Tech (Mechanical Engineering) from NIT Hamirpur7+ Years of Experience