Need help in preparing end-to-end documentation for your patent filing?
Document Preparation & Filing
Patents are very structured documents and thus it requires a lot of paper works to be done appropriately and in accordance with the respective patent office. To help clients in preparing end-to-end documentation for their patent filing, Sagacious, came up with Document Preparation and Filing support service so that they can concentrate much on their core work.
A team of qualified paralegals will support you in the preparation and filing of domestic (U.S.) and PCT applications. Included in this service is translation and formal drawing coordination, drafting of procedural documents, and document formatting reviews. In addition, we provide instruction letters and source documents to your overseas associates, streamlining your foreign workflow.
Vivek Singh
Head – IP Filing and Prosecution Practice
M. Pharm (Jamia Hamdard University, New Delhi); LL.B (DU), Registered Patent & Trademark Agent. Experienced IP attorney with Techno-Legal background & 11+ years of diverse work experience in IP & R&D. He has previously worked with FICCI, Ranbaxy besides being founder of the start-up acquired by 1mg.com
Gurpal Singh
Consultant – Patent Drafting, Prosecution & Filing
Patent Drafting Expert (Mechanical Engineering) Mechanical Engineer, Good knowledge of patent laws of various jurisdictions, primarily India, Europe, USA, Malaysia and Australia.
Swati Singh
Senior Paralegal Executive
Life Sciences & Chemistry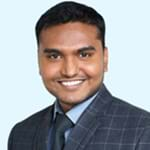 Dhananjay Kumar Das
Manager – ICT Licensing
Patent Licensing Professional (Telecommunication) ECE Engineer, 4+ Years in IP Industry, Patent licensing and valuation professional with keen interest & experience in Electronics and Telecommunication
John Britto M
Manager – Illustration Team
Patent Illustrator (Mechanical Engineering) Mechanical Engineer, 10+ Years in IP Industry, Patent illustrator with a decade of experience delivering PTO compliant drawings.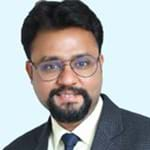 Tanmay Mittal
IP Solutions Architect
B.Tech (Mechanical Engineering)from IEC-CET 8+ Years of Experience