Want to protect your IP rights?
Patent Paralegal Services
Our expert Paralegal Support Structure helps clients protect their IP rights by filing drafted patent applications, efficiently maintaining file histories, monitoring the docket & sending reminders of upcoming due dates to the client for reporting, managing global filing requests, handling PTO correspondence, and coordinating associate correspondence.
A Crackerjack Squad
The in-house trained docketing and paralegal team have a combined experience of processing more than 10,00000 documents and filing 3000 application for both corporates and law firm. Thorough knowledge of multi countries prosecution enables the experts to provide valuable suggestions to the attorney which eventually results in the right decision making in patent prosecution.
Systematic management of daily workflow with an ability to handle ad-hoc requests in a timely form by the Domain and Subject Matter Experts while maintaining a stringent focus on quality helps us deliver the optimum outcome to our clients.
Cross-Disciplinary Strategy
Paralegal assistance is provided over a wide spectrum consisting of multiple jurisdictions such as US, EP, IN, PCT, HK and many more. Depending on work volume we implement various engagement models to give our clients the premier out-turn. A direct communication channel with foreign associates and clients provides peerless patent paralegal solutions.
Noteworthy Case-Study
Commendable assistance by the paralegal team at Sagacious saved a US-based big law firm from missing deadlines.
In one of the Trademark applications designated in Kuwait (International Trademark -Madrid route) local agent reported incorrect renewal and USE deadline. The deadline was calculated as per local TM rules whereas in the case on International Trademark deadlines should be calculated as per Madrid rule. Our paralegal team due to better understating of country laws checked WIPO and Kuwait trademark rule and upon confirmation send an e-mail to the respective agent for clarification. Later, the agent eulogized and confirmed our flawless understanding regarding the trademark rule.
Challenges:
In case of missed deadline end client would have to pay extra to retain their IP in force.
Money Constraint– Client does not want to spend more
Strict timelines – maintaining a deadline is a big challenge
US attorney was not available for further discussion
Outcome:
Agent saved their money and reputation in-front of the end client
The client saved their money
Vivek Singh
Head – IP Filing and Prosecution Practice
M. Pharm (Jamia Hamdard University, New Delhi); LL.B (DU), Registered Patent & Trademark Agent. Experienced IP attorney with Techno-Legal background & 11+ years of diverse work experience in IP & R&D. He has previously worked with FICCI, Ranbaxy besides being founder of the start-up acquired by 1mg.com
Gurpal Singh
Consultant – Patent Drafting, Prosecution & Filing
Patent Drafting Expert (Mechanical Engineering) Mechanical Engineer, Good knowledge of patent laws of various jurisdictions, primarily India, Europe, USA, Malaysia and Australia.
Swati Singh
Senior Paralegal Executive
Life Sciences & Chemistry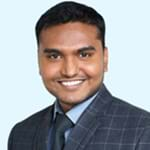 Dhananjay Kumar Das
Manager – ICT Licensing
Patent Licensing Professional (Telecommunication) ECE Engineer, 4+ Years in IP Industry, Patent licensing and valuation professional with keen interest & experience in Electronics and Telecommunication
John Britto M
Manager – Illustration Team
Patent Illustrator (Mechanical Engineering) Mechanical Engineer, 10+ Years in IP Industry, Patent illustrator with a decade of experience delivering PTO compliant drawings.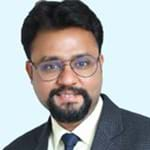 Tanmay Mittal
IP Solutions Architect
B.Tech (Mechanical Engineering)from IEC-CET 8+ Years of Experience