Need a Proofreading Expert to ensure 100% error-free patent document?
Patent Proofreading Service
Mitigating risk, managing consistency, removing delicacy and errors from claims and specifications are timely and effectively are the prime attributes of Sagacious Proofreading Experts. Proper rectification of grammatical errors along with diligence on every aspect of specification guarantee's our client's enforceability and viability of patent. More than 1000 patent proofreading projects done over a decade to ensure incorporation of all the amendments made either by the applicant or examiner in the issued patent at various stages have not only helped our clients but also our team to stand where we are today.
Subject-Specific Finesse
Consistent learning and practicing over the years have made our team develop and implement constructive strategies which corroborate client success. Identification of applicant or PTO errors and fixing them satisfactorily, ensuring accurate continuity and bibliographic information of the patent, providing EFS ready form that will help in hassle-free issuance of Certificate of Correction (CoC) are our proven paradigm.
Proficient Proof-readers
A three-phased hierarchy is followed which comprises of a first level self-review by the professional, a second level scrutiny by the peer and the third-level validation of the report performed by experienced subject matter experts. This rigorous process assures that all amendments are filed during prosecution, a thorough review and formatting of the report is done along with checking of specifications and drawings.
We have come up with unique engagement models to suit every client's requirements. All reports prepared are customized giving client priority as the utmost weightage.
Deliverable Package
Issued Patent Proofing Report
Marked Issued Patent
Certificate of Correction (if applicable) and
Request Letter (if applicable)
One of our clients who is a reputed US Based Law Firm was facing a limitation in the scope of the invention as 17 Claims were missing from the issued document. Here's a brief snapshot of how our team helped them out.
Scenario: In Notice of Allowance the total number of Allowed Claims were 1-18. The Notice of Allowance Summary page checkbox is always checked to confirm the allowed claims approved by the examiner.
Expectation: All claims 1-18 should be incorporated in the granted patent issued by the USPTO.
Reality: Out of 18 allowed claims only 1 claim was incorporated in the granted patent.
Error Impact: 17 claims missing from the issued document, limiting the scope of the Invention, thereby defeating the entire patenting process.
Vivek Singh
Head – IP Filing and Prosecution Practice
M. Pharm (Jamia Hamdard University, New Delhi); LL.B (DU), Registered Patent & Trademark Agent. Experienced IP attorney with Techno-Legal background & 11+ years of diverse work experience in IP & R&D. He has previously worked with FICCI, Ranbaxy besides being founder of the start-up acquired by 1mg.com
Gurpal Singh
Consultant – Patent Drafting, Prosecution & Filing
Patent Drafting Expert (Mechanical Engineering) Mechanical Engineer, Good knowledge of patent laws of various jurisdictions, primarily India, Europe, USA, Malaysia and Australia.
Swati Singh
Senior Paralegal Executive
Life Sciences & Chemistry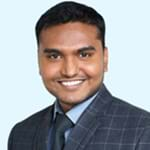 Dhananjay Kumar Das
Manager – ICT Licensing
Patent Licensing Professional (Telecommunication) ECE Engineer, 4+ Years in IP Industry, Patent licensing and valuation professional with keen interest & experience in Electronics and Telecommunication
John Britto M
Manager – Illustration Team
Patent Illustrator (Mechanical Engineering) Mechanical Engineer, 10+ Years in IP Industry, Patent illustrator with a decade of experience delivering PTO compliant drawings.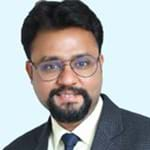 Tanmay Mittal
IP Solutions Architect
B.Tech (Mechanical Engineering)from IEC-CET 8+ Years of Experience