Want to encompass an efficacious Patent term adjustment service? 
Patent Term Adjustment Service
Delay in patent prosecution diminishes the enforceable term of the patent. An efficacious Patent term adjustment service encompasses patent term on a day-by-day basis. Our squad of veteran professionals holds profound industry knowledge to deliver ace patent term adjustment service to clients. Through the solution, an upsurge in the lifespan of our client's patent is ensured via petition filing. Applications which are eligible for patent term adjustment are original applications (including continued prosecution applications), except for design patents, filed on after May 29, 2000.
Adroit Specialists
Our experts comprehensively scrutinize, strategize, and conceptualize legal research and implement any PTA related law change accordingly. Professionals formulate and file a petition related to PTA days correction at the USPTO.  Keeping recent federal court judgment handy at the time of PTA calculation provides the best possible patent term adjustment report to the clients.
The team focusses on Manual Calculation that involves careful reviews of each document available in IFW and then determines the event/document appropriate for PTA calculation. The calculation is based on latest and updated laws with proper incorporation of new law/rule/judgment from the date of its enforcement.
Irreproachable Practices
Till date, more than 700 PTA calculation for diversified clients has been served. Proven methods and experts' capabilities with advanced tools and techniques deliver world-class service report to the clients. Careful scrutinization of each IFW document followed by the event/document identification appropriate for PTA calculation generates elite PTA report. Latest and updated laws are preferred for accurate calculations. The accuracy of the service report is ensured by incorporating new law/rule/judgment from the enforcement date. A new patent expiry date is provided in the report in case of discrepancy.
To deliver the PTA solution actual application filing date in the US must be provided. A-Delay (USPTO failure to respond to a patent filing within 14 months of filing), B-Delay (USPTO failure to issue the patent within three years of filing), C-Delay (Delay due to interferences, secrecy orders, or successful appeals) and Applicant Delay are few of the delays occurs due to the USPTO and applicant inaction.
Vivek Singh
Head – IP Filing and Prosecution Practice
M. Pharm (Jamia Hamdard University, New Delhi); LL.B (DU), Registered Patent & Trademark Agent. Experienced IP attorney with Techno-Legal background & 11+ years of diverse work experience in IP & R&D. He has previously worked with FICCI, Ranbaxy besides being founder of the start-up acquired by 1mg.com
Gurpal Singh
Consultant – Patent Drafting, Prosecution & Filing
Patent Drafting Expert (Mechanical Engineering) Mechanical Engineer, Good knowledge of patent laws of various jurisdictions, primarily India, Europe, USA, Malaysia and Australia.
Swati Singh
Senior Paralegal Executive
Life Sciences & Chemistry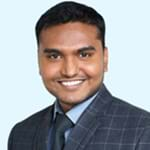 Dhananjay Kumar Das
Manager – ICT Licensing
Patent Licensing Professional (Telecommunication) ECE Engineer, 4+ Years in IP Industry, Patent licensing and valuation professional with keen interest & experience in Electronics and Telecommunication
John Britto M
Manager – Illustration Team
Patent Illustrator (Mechanical Engineering) Mechanical Engineer, 10+ Years in IP Industry, Patent illustrator with a decade of experience delivering PTO compliant drawings.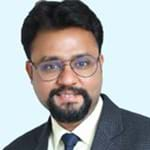 Tanmay Mittal
IP Solutions Architect
B.Tech (Mechanical Engineering)from IEC-CET 8+ Years of Experience